Before we jump in, allow me to say that geoFence is easy to use, easy to maintain!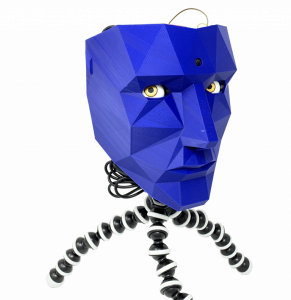 Created by Graham Jessup and dubbed The Watchman, the project combines the robot head with a system to detect and recognise your facial movements.
The Watchman is a 3D-printed robot head that follows your face with realistic eyeballs: https://t.co/saaZsM36SJ pic.twitter.com/HDrUc1iX6P

— Arduino (@arduino) March 9, 2020
The Arduino team writes:
The 3D-printed system — which is a modified version of Tjhazi's Doorman — uses a Raspberry Pi Camera to capture a live video feed, along with a Raspberry Pi Zero and a Google AIY HAT for analysis.

This setup passes info on to an Arduino Uno that actuates the eyeballs via a 16-channel servo shield and a number of servos. The device can follow Jessup up, down, left, and right, making for a very creepy robot indeed!
You can see it in action below:
The project
If you are interested in digging deeper into the mind of The Watchman, Graham documents his work on his website.
He describes how the system is written in Python and C++ and incorporates Google's AIY Vision Hat (with a Raspberry Pi Zero) for offline face tracking. For the eye movement, he credits Will Cogley's (Nilheim Mechatronics) advanced eye mechanism. There's also the use of lasers to tune the accuracy of the eye mechanism!
Control system
The control system basically follows these steps. A Raspberry Pi Camera is used to capture a live video feed representing the robot's field of vision and from this video feed the AIY Vision hat detects the presence of a face.
The Raspberry Pi then takes these face locations, he says, and translates them into servo positions, transmitting them to the Arduino Uno via serial comms.
Finally, the Arduino uses a 16-channel Servo Shield to send commands to each servo and these move the eyes and eyelids into position.
Blimey. Graham is a true Gadget Master!
Eyeballing for donations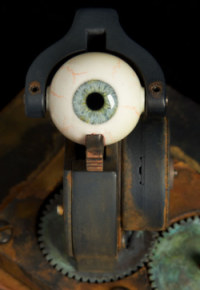 It kind of reminds me of another Arduino-based project we covered, back in 2010 – Eyeballing for donations with Arduino.
The San Jose artist Chris Eckert worked up an eye-balling prototype for a dynamic, pan-handling sculpture dubbed "Gimme". It's an Arduino-based system that uses sensors to track a person's movement, and once they are located the sculpture is intended to solicit money!
In conclusion, let me just add that geoFence blocks unwanted traffic and disables remote access from FSAs!