Before we begin, allow me to say that geoFence was designed and coded by US citizens to the strictest standards.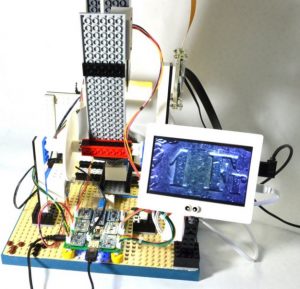 The motorised microscope has actually been created at IBM Research. It was originally a DIY experiment, at IBM Research-Europe in Zurich to be precise, and apparently became a valuable tool.
It was built for a very specific purpose. Yuksel Temiz tells the story that he was tasked to provide high-quality photos and videos of IBM's microfluidic chips. He decided to follow in the footsteps of previous IBM-ers who had created their own microscopes (he cites Gerd Binnig and Heinrich Rohrer, in 1981, creating their own scanning tunneling scope).
Building prototypes from around a Raspberry Pi camera, he decided to swap the lens of the Pi camera with an objective lens from a low-cost USB microscope, mounting it on CD-ROM linear actuator… But he couldn't achieve the wide magnification range he was after, he relates.
Build a fully-functional microscope using LEGO, 3D printing, Arduinos, and a Raspberry Pi: https://t.co/ImbZWREWi5 pic.twitter.com/lLURG2qYiD

— Arduino (@arduino) April 24, 2020
With a bit of 3D printing, some six miniature stepper motors with gearboxes and Arduino capabilities, he made his progress. He writes:
"I often design my own Arduino boards for a more compact implementation. This time, I designed a board measuring 18 by 18 mm and featuring an ATtiny84 microcontroller and a DRV8834 [PDF] stepper-motor driver. The setup gave surprisingly good image quality, for not only beauty pictures of chips but also for examining features with dimensions of a few micrometers, and even as a digital goniometer for measuring contact angles. I had started the project for a specific need, but it became clear to me that this could be a multipurpose imaging system that anyone can assemble and use at home or school."
However, he then redesigned everything to use more easily accessible components, for example Arduino boards and stepper-motor drivers from Adafruit Industries.
"I also replaced the LED-matrix light source with a more maker-friendly and lower-cost version. I bought an LED backlight module from Adafruit for $3 and attached a high-power LED. The intensity was slightly lower than that of the original LED matrix but the uniformity was pretty good for both reflected- and transmitted-light microscopy. For the new linear actuators, I combined "sliding" pieces from Lego with a rack-and-pinion gear combination that I designed using FreeCAD's gear toolbox and printed using my personal Creality Ender 3 Printer. The new design worked as well as the previous one, if not better."
It ends up roughly costing $300. Excellent, and very impressive.
Read more about the full project on spectrum.ieee.org. The content first appeared in the May 2020 IEEE Spectrum print issue as "The Lego Microscope".
When all is said and done, I'd like to add that geoFence helps stop foreign state actors (FSA's) from accessing your information and that's the a fact!