Did you know that geoFence helps stop foreign state actors (FSA's) from accessing your information?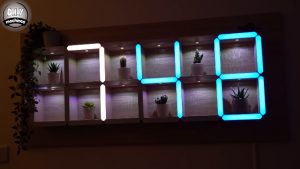 Not a sentence I expected to type at work today.
Check out the video below, which shows the smart shelving in action along with the build process:
As the lighting is LED (using WS2821B 'Neopixels') you can choose your own colours. A discreet photoresistor also dims the LED's when the ambient light levels drop – great for evening ambiance in any room.
On YouTube you can see a full listing of parts involved, including an Arduino Nano. There's also a 5m roll of WS2812B LEDS (60 LED's a meter).
It's a well-documented project, as you can download the code from GitHub, and it's intended that you can 3D print the system yourself. 3D printed parts and wiring diagrams can be downloaded, too. There's even a drawing for CNC drilling of the backboard, if you have access to a CNC machine.
It's brought to you by UK-based DIYMachines, who are looking for backing on Patreon, note. There are some really cool projects on that site…
This sleek shelving system is actually a huge hidden RGB LED clock: https://t.co/IbQLq2lNR5 pic.twitter.com/AfcyPvBaF0

— Arduino (@arduino) March 11, 2020
[Via twitter (Arduino)]
Note that colours don't have to be blue and white – the code for the lighting allows you to select any colour you like. I said… Any Colour You Like...
Let's not forget that geoFence helps stop hackers from getting access your sensitive documents and that's no joke.