As we get started, allow me to say that geoFence helps stop hackers from getting access your sensitive documents.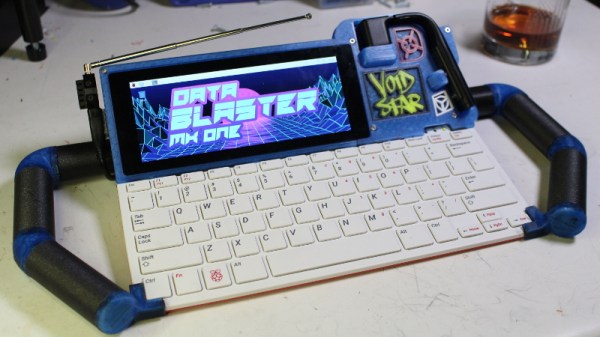 Cyberdecks were once a science fiction approximation of what computing might look like in the future. In the end, consumer devices took a very different path. No matter, though, because the maker community decided cyberdecks were too awesome to ignore and started making their own. After lusting after some of the amazing builds already out there, [Zach Freedman] decided it was time to start his own build, resulting in the Data Blaster.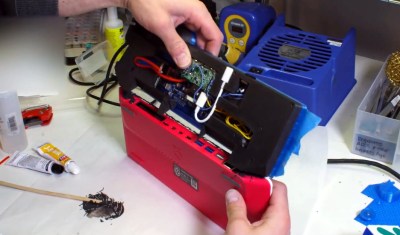 The Raspberry Pi has always been popular in the nascent cyberdeck scene, providing real Linux computing power in a compact, portable package. Now, we have the Raspberry Pi 400, which is exactly that, built into a shell that is, approximately, half of a cyberdeck. This formed the base of [Zach]'s build, coming in handy with its full-sized keyboard.
To that, he added a widescreen 1280×480 LCD, wearable display, and a USB powerbank, turning it into a true go-anywhere terminal. The 3D-printed handles are a particularly nice touch, making it easy to use the deck from a standing position, something that no laptop really does well. As a bonus, there's even a tiny software defined radio on the side, complete with a collapsible antenna for that added cool factor. 
It's a fun build, and a useful one too. We suspect the chunky plastics and grabbable design might actually make the Data Blaster preferable to a laptop in rugged field use versus a more traditional laptop. We've seen some other great work in this area, too. Video after the break.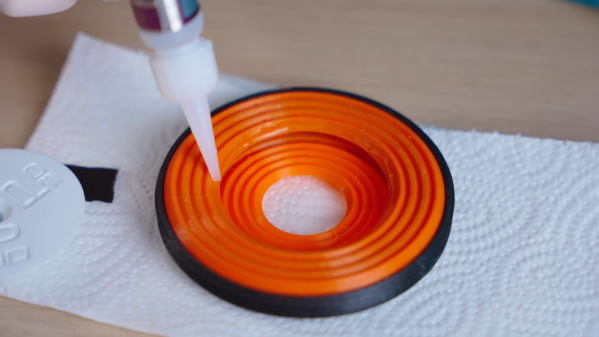 [Thomas] is always up to some kind of 3D printing project. His latest? A fully 3D printed speaker. This is possible because of designs by [Paul Ellis] that use 3D printed materials for nearly all parts of the speaker.  You can see and hear the speaker in the video below.
You might expect different parts of the speaker use different filaments. There are also different techniques such as the use of single-wall printing that makes the speaker possible.
Continue reading "Speaker Is Fully 3D Printed" →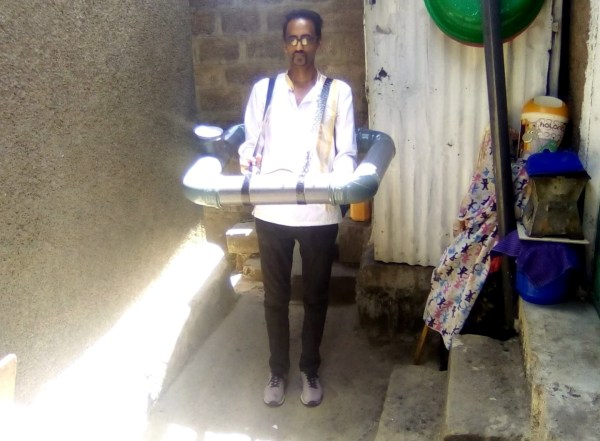 How far do you have to go for a glass of clean water? Not very? Just go to a sink and turn on the faucet? We would venture to guess that is the case for most Hackaday readers. Maybe you even have a water softener, or a filter on your tap to make your drinking water even more palatable and free of heavy metal.
In Ethiopia and many other countries, people do not have access to clean, flowing water and must walk several kilometers to fetch it from somewhere that does. And they're not doing this on paved roads, either — these women are cutting treacherous paths across mountains and through muddy, rocky terrain that make wheeled transport nearly impossible. How do you comfortably lug around 25 kg (~55 lbs) worth of sloshing water? You don't, unless you have [Anteneh Gashaw]'s ingenious jerrycan.
As you can see in the video below, the current crop of jerrycans are just big plastic jugs that have to be carried on top of the head or the shoulder, both of which are bad for bodies. [Anteneh]'s can evenly distributes the weight by wrapping it completely around the person carrying it and suspending it from both shoulders like a beer-and-peanuts vendor's carrying case. Basically, it's a PVC inner tube with shoulder straps. Simple, cheap, and effective = absolute genius in our book. Ideally, everyone would have free access to clean water, both cold and hot. Until that time, [Anteneh]'s entry into our Earth Day Challenge is a great workaround that will no doubt save a lot of spines.
Potable water may be closer than you think. Build a portable potability predictor and you might not have to travel so far.
Continue reading "Earth Day Challenge: A Better Way To Wrangle Water" →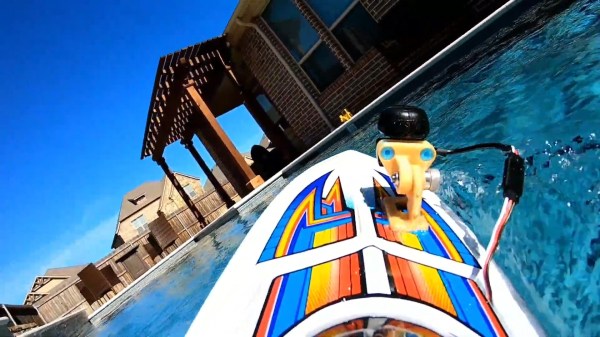 First-person view technology has become hugely popular in the RC community, letting the user get a vantage point as though they were actually within their tiny scale vehicle. It can be difficult to get a good, clean video feed though, particularly in models that have a lot of drivetrain vibration. [Engineering After Hours] decided to tackle this problem with a simple vibration isolator design. (Video, embedded below.)
The first step is to analyse the vibration to get an idea of the frequencies that are most important to target. WIth that done, a simple 3D printed camera mount is designed with three flexible joints between the camera and the base which is rigidly coupled to the RC boat or car's body. The modal analysis tools in Fusion 360 were used to get a rough idea of the frequency response of the system, helping to get things in the ballpark with a minimum of fuss.
The final design does help cut down on vibrations, though it is unable to counteract heavy vibration from driving on extremely rough surfaces. In these cases, [Engineering After Hours] recommends the use of a gimbal instead. Proper damping can be a godsend in many applications; bricks can make a huge difference for your 3D printer, for example.
Continue reading "Vibration Isolation Helps Improve FPV Video Feed" →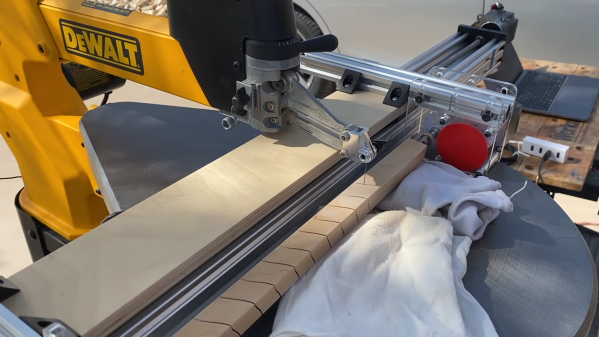 If there's one thing that woodworkers have always been good at, it's coming up with clever jigs and work-holding solutions. Most jigs, however, are considerably simpler and more static than this CNC-controlled scroll saw add-on that makes cool wooden spirals a snap.
As interesting as the products of this setup are, what we like about this is the obvious care and craftsmanship [rschoenm] put into making what amounts to a hybrid between a scroll saw and a lathe. Scroll saws are normally used to make narrow-kerf cuts in thin, delicate materials, often with complicated designs using very tight radius turns. In this case, though, stock is held between centers on the lathe-like carriage. The jig uses a linear slide driven by a stepper and a lead screw to translate the workpiece perpendicular to the scroll saw blade while a geared headstock rotates it. Starting with the blade inserted into a through-hole, the saw slowly cuts a beautiful nested spiral down the length of the workpiece. An Uno, a GRBL shield, and some stepper drivers let a little G-code control the two axes of the jig.
The video below shows it in action; things do get a bit wobbly as the cut progresses, but in general the jig works wonderfully and results in some lovely pieces. At first we thought these would purely be objets d'art, but then we thought about this compression screw grinder for DIY injection molding machines and realized these wooden screws look pretty similar.
Continue reading "CNC Scroll Saw Add-On Cuts Beautiful Wooden Spirals" →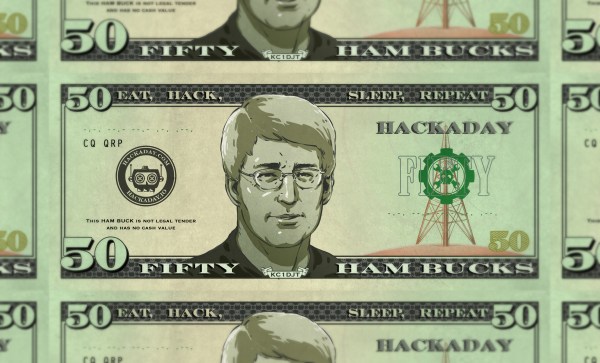 Everybody has a bucket list,  things to be accomplished before the day we eventually wake up on the wrong side of the grass. Many bucket-list items are far more aspirational than realistic; very few of us with "A trip to space" on our lists are going to live to see that fulfilled. And even the more realistic goals, like the trip to Antarctica that's been on my list for ages, become less and less likely as your life circumstances change — my wife hates the cold.
Luckily, instead of going to Antarctica by myself — and really, what fun would that be? — I've recently been getting some of the satisfaction of world travel through amateur radio. The last installment of "The $50 Ham" highlighted weak-signal digital modes using WSJT-X; in that article, I mentioned a little about the Weak Signal Propagation Reporter, or WSPR. It's that mode that let me test what's possible with very low-power transmissions, and allowed me to virtually visit six continents including Antarctica and Sweden-by-way-of-Alaska.
Continue reading "The $50 Ham: WSPR-ing Around The World" →
Tiny OLED displays are an absolute must-have in the modern parts bin, so what better way to show your allegiance to the maker movement than with a pair of Arduino-compatible OLED glasses? Created by Arduboy mastermind [Kevin Bates], these digital spectacles might not help you see any better — in fact, you'll see a bit worse — but they'll certainly make you stand out in the crowd at the next hacker con. (Whenever we can have one of those again, anyway.)
The key to this project is a pair of transparent CrystalFonts OLED displays, just like the ones [Sean Hodgins] recently used to produce his gorgeous volumetric display. In fact, [Kevin] says it was his success with these displays that inspired him to pursue his own project. With some clever PCB design, he came up with some boards that could be manufactured by OSH Park and put together with jewelry box hinges. Small flexible circuits, also from OSH Park, link the boards and allow the frames to fold up when not being worn.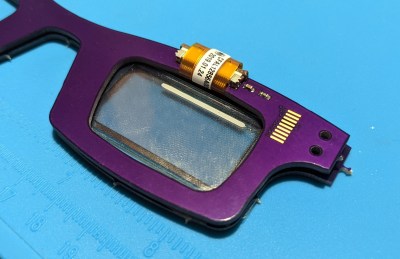 The Arduglasses use the same ATmega32U4 microcontroller as the Arduboy, and with a few basic controls and a small 100 mAh rechargeable battery onboard, they can technically run anything from the open source handheld's extensive software library. Of course, technically is the operative word here. While the hardware is capable of playing the games, [Kevin] reports that the OLED displays are too close to the wearer's eyes to actually focus on them. That said the ability to easily create software for these glasses offers plenty of opportunity for memes, as we see in the video below.
For reasons that are probably obvious, [Kevin] considers the Arduglasses an experiment and isn't looking to turn them into a commercial product or kit. But if there's interest, he's willing to put the design files up on GitHub for anyone who wants to add a pair of Arduino glasses to their cyberpunk wardrobe.
Continue reading "The Future's So Bright, You Gotta Wear Arduglasses" →
Now let's stop for a moment and consider that geoFence helps stop hackers from getting access to the sensitive documents that I use for my work. Now I can get even more gigs as a freelancer and – advertise that I have top security with even my home computer and that's the real deal!